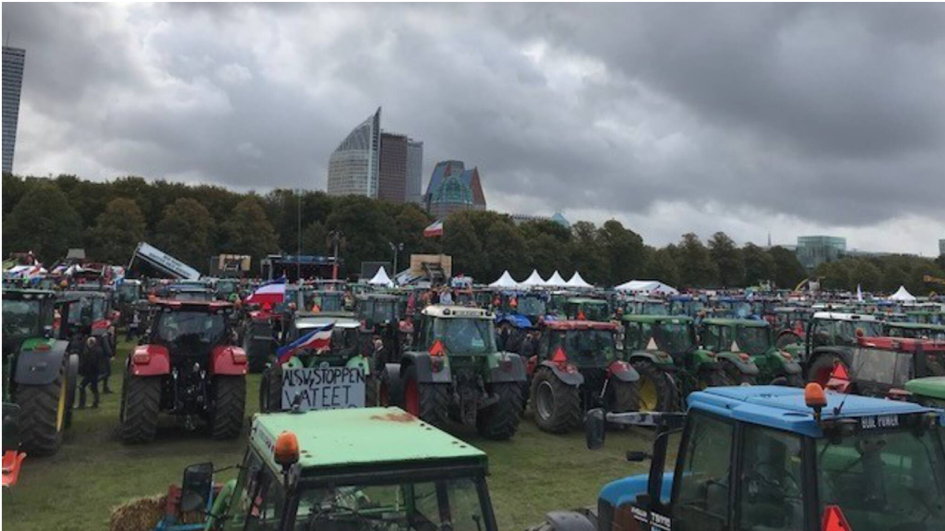 Soms roep je gewoon maar eens wat. Bijvoorbeeld wanneer je vindt dat het de laatste tijd wat stilletjes is op het Malieveld. Dan volstaat een uitspraak over het halveren van de Nederlandse veestapel prima om heel veel mensen heel boos de hofstad te laten bezoeken.
Het is verleidelijk om een complex probleem te versimpelen. Dan lijkt een oplossing makkelijker te bereiken.
Zo is het stikstofprobleem in de kern simpel: 1. we hebben er te veel van. 2. wie veroorzaakt dat? 3. die partijen verplichten we tot verminderen. Uitslag: minder stikstof en we kunnen weer bouwen.
Of nog simpeler: het stikstofprobleem in twijfel trekken.
Wij kijken naar intrigerende  journaalbeelden van trekkers op het Noordzeestrand en zien een wanhopig boze groep mensen die terecht om aandacht schreeuwen en wellicht een deel van hun terugreis blij zijn met een enkelvoudige toezegging, maar daarmee het vertrouwen niet op terug krijgen. Zeker niet als je al tientallen jaren je best doet om aan allerlei strenge regels te voldoen en nu het gevoel krijgt alle schuld van de het stikstofprobleem in de schoenen te krijgen.
De uitspraak om de veestapel te reduceren met 50% heeft dan ook het effect van een 'tipping point': alle onvrede, opgebouwd in jaren, komt tot uiting in een enkelvoudig debat over stikstof.
Wanneer we echt kijken, zien we een systeem-probleem, waarbij alle partijen vanuit het eigen perspectief het eigen gelijk beleven.
Zo is daar bijvoorbeeld de prijs van ons voedsel. Structureel te laag, naar alle tevredenheid van ons allen bij het afrekenen aan de kassa, maar van invloed op de financiële positie van veel boeren(gezinnen) die zich voor drie generaties in de schulden moeten steken om meer te produceren voor een normaal inkomen.
Zo zijn daar tegelijkertijd ook de cijfers die milieuorganisaties graag gebruiken: wij zijn als piekklein land de op één na grootste voedselproducent ter wereld. Dan ben je geen idyllische verbouwer van voedsel voor de eigen bevolking meer, maar een intensieve industrie, te groot voor zo'n klein dicht bevolkt land.
En dit zijn nog maar twee perspectieven met elk eigen feiten, een geschiedenis en mentale percepties. Voeg daar nog een wezenlijk perspectief bij: het aspect vertrouwen, de manier waarop wij informatie die ons wordt aangereikt nog vertrouwen of het tanende vertrouwen in politiek bestuur en leiderschap en de kans van slagen van een enkelvoudige oplossing is nihil. Dan rest ons volle Malievelden en rituele dansen rond vergadertafels.
De 'way out' lijkt buiten ons gezichtsveld te liggen. Toch is niets minder waar.
Wanneer we deze kwestie willen zien als een dynamisch systeem, waarin een verschillende ogenschijnlijk lossen aspecten met elkaar in samenhang staan, elkaar beïnvloeden en zo het ontstaan, het verloop van de kwestie bepalen, dan komen mogelijkheden boven tafel die niemand vooralsnog voor mogelijk hield.
En als we daarbij de moed hebben om kritisch te kijken naar onze eigen inbreng in het probleem, daarvoor verantwoordelijkheid te nemen in plaats van de ander te overtuigen van ons gelijk,  de discussie in te wisselen voor de dialoog, de politieke gevoeligheid voor gedurfd leiderschap, dan is er in korte tijd heel veel mogelijk.
Dat zou een hoopvolle boodschap zijn aan de boer die vandaag zijn trekker af-tankt, over zijn / haar land kijkt en zich afvraagt wat het nut was van het ritje naar dat Malieveld.
Jos Metselaar